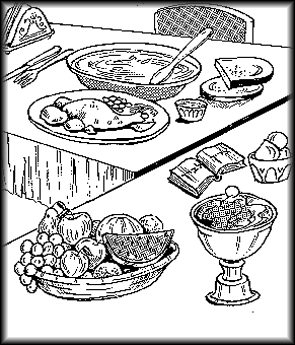 #47

DIFFERENT FOODS THAT COME IN THE MIDDLE OF A MEAL

When eating a meal, no other bracha is needed for any food that is part of the main course. Anything that comes after the main course needs to have a separate bracha. For example, if the main course is meat and fish, then the fruit for dessert would need another bracha. If the fruit is the main meal, then most times a bracha is not needed. When the fruit is cooked together with the meat, it is considered part of the main course and no added bracha is said.

Ice cream and sweets like this are usually not considered a part of the meal so that another bracha is made for these. If cake is eaten for dessert, a bracha should be said. When cake is eaten to become full at a meal, a separate bracha is not needed. If a food is very sweet, then usually a bracha is needed. When making a bracha before washing for bread, he should have in mind that this bracha should cover all other brochos during the meal.

To order this book please e-mail us at pictorial@pirchei.co.il