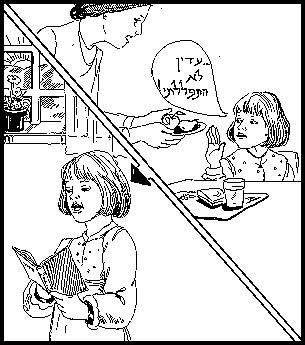 #20

THE LAWS OF EATING BEFORE DAVENING (PRAYING) IN THE MOR NING

It is written in Vayikra 19, "You should not eat on your blood." When a person eats before he prays, Hashem asks: "after this person acted like a big shot, then he wants to pray?" We learn from here that a person should not eat before davening.

A person may drink water, unsweetened tea, coffee without sugar, and milk. If he needs to take medicine, he is allowed to drink it with juices. If a person is very weak, he can drink whatever he needs to make himself stronger.

Today, because we are so weak, there is a custom to permit people to drink tea with sugar. However, it is better for a person to take the sugar in his mouth and not put it straight into the tea. There are also some opinions that allow coffee with milk and sugar, if people are used to drinking it this way.

To order this book please e-mail us at pictorial@pirchei.co.il