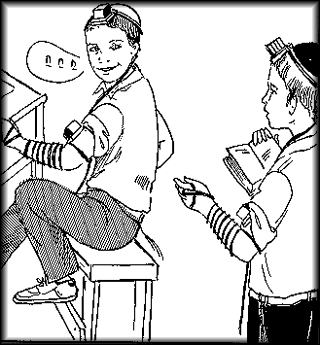 #29

YOUR MIND SHOULD BE AWARE OF THE TEFILLIN

A person should always try to think about the Tefillin he is wearing . It is not considered proper to laugh and joke while wearing them. A person should also try to keep his thoughts from wandering.

It is a custom to touch the Tefillin from time to time and to think about the "Emuna" (belief) in Hashem which is written on the parchment inside. In addition, it is not permissible to talk in between putting on the Tefillin of the arm (Yad) and putting on the Tefillin of the head (Rosh). It should be put on as quickly as possible.

The Tefillin can be imagined as two radio transmitters sending direct signals from the wearer to Heaven. There can be no interference. Only the wearer himself can cause disturbances or prevent it from happening.

To order this book please e-mail us at pictorial@pirchei.co.il