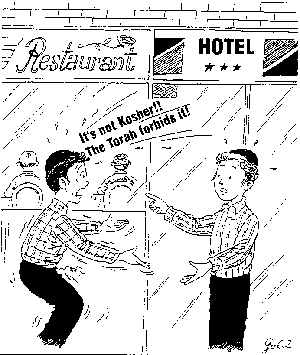 DON'T LEARN FROM PEOPLE WHO SPEAK LOSHON HORA
Imagine if you saw a friend going into a non-kosher restaurant. If you told him, "Don't eat there -- the food isn't kosher!" would he still eat there? Of course not! But somehow, when you tell someone that he's speaking lashon hara, he'll often find an excuse to keep on speaking. People don't realize that speaking Loshon Hora is just as wrong as eating food that is not kosher!
Click on the image to get a printable copy.

#11/46
To order this book please e-mail us at loshonhora@pirchei.co.il